Cerebral palsy (CP) is an umbrella term that refers to a group of disorders affecting a person's movement. Although it is typically described by impairment of motor function and it primarily affects body movement and muscle coordination, CP is actually caused by brain damage. This brain damage is a non-progressive brain injury of the brain that occurs while a child's brain is still developing — before birth, during birth, or immediately after birth.

CP affects body movement, muscle control, muscle coordination, muscle tone, reflex, posture and balance, along with fine motor skills, gross motor skills and oral motor functioning. Other impairments may include intellectual impairment, seizures, and vision or hearing impairments.

What makes CP such an umbrella term is that every case is unique to the individual. The type of movement dysfunction, the location and number of limbs involved, as well as the extent of impairment, will vary from one individual to another.
There are many ways to classify CP. Some examples include (but are not limited to):
Mild

– child can move without assistance; his or her daily activities are not limited.

Moderate

– child will need braces, medications, and adaptive technology to accomplish daily activities.

Severe

– child will require a wheelchair and will have significant challenges in accomplishing daily activities.

No CP

– child has CP signs, but the impairment was acquired after completion of brain development
Monoplegia/monoparesis

- one limb is affected

Hemiplegia/hemiparesis

- arm and leg on one side of the body are affected.

Diplegia/diparesis

- usually indicates the legs are affected more than the arms; primarily affects the lower body,

Quadriplegia/quadriparesis

- all four limbs are involved
Spastic Cerebral Palsy

is characterized by increased muscle tone.

Non-spastic Cerebral Palsy

will exhibit decreased or fluctuating muscle tone.

Ataxic/ataxia:

affects coordinated movements, balance, posture, walking ability, eye movements, depth perceptions and fine motor skills requiring coordination of the eyes and hands such as writing.

Dyskinetic

displays as involuntary movements.

Athetoid

is especially noticable in the arms, legs, and hands.

Dystonia/Dystonic

is accompanied by an abnormal, sustained posture and affect the trunk muscles more than the limbs.
Rehabilitation will play an important role in coordinating the care of these often very involved patients. Physical, occupational, and speech therapy are available to help with many aspects of care, including, but not limited to, those relating to spasticity management, activities of daily living, communication, and much more.
Physical therapy (PT) will teach the child along with the parents and caregivers exercises and activities that are necessary to help the child reach his or her full potential and improve function. Postural and motor control training is very important and will be a huge focus during PT. Daily range-of-motion exercises are important to prevent or delay contractures that are secondary to spasticity and to maintain the mobility of joints and soft tissues. To improve strength, PT will prescribe and teach progressive resistance exercises to improve function. PTs may refer the child to an orthotist to prescribe bracing to help improve posture and positioning. Some PTs may utilize Kinesio Taping to help in reeducating muscles for stretching and strengthening.
Occupational Therapy (OT) will focus on activities of daily living, such as feeding, dressing, toileting, grooming, and transfers, along with focus on the upper extremity. The goal typically is for the child to function as independently as possible with or without the use of adaptive equipment. Activity-based interventions such as modified constraint-induced movement therapy (mCIMT) and bimanual intensive rehabilitation training (IRP) can be utilized to improve the child's ability to use the affected extremity and improve independence with self care. Some OTs who are trained in feeding can help with any feeding difficulties that the child may have.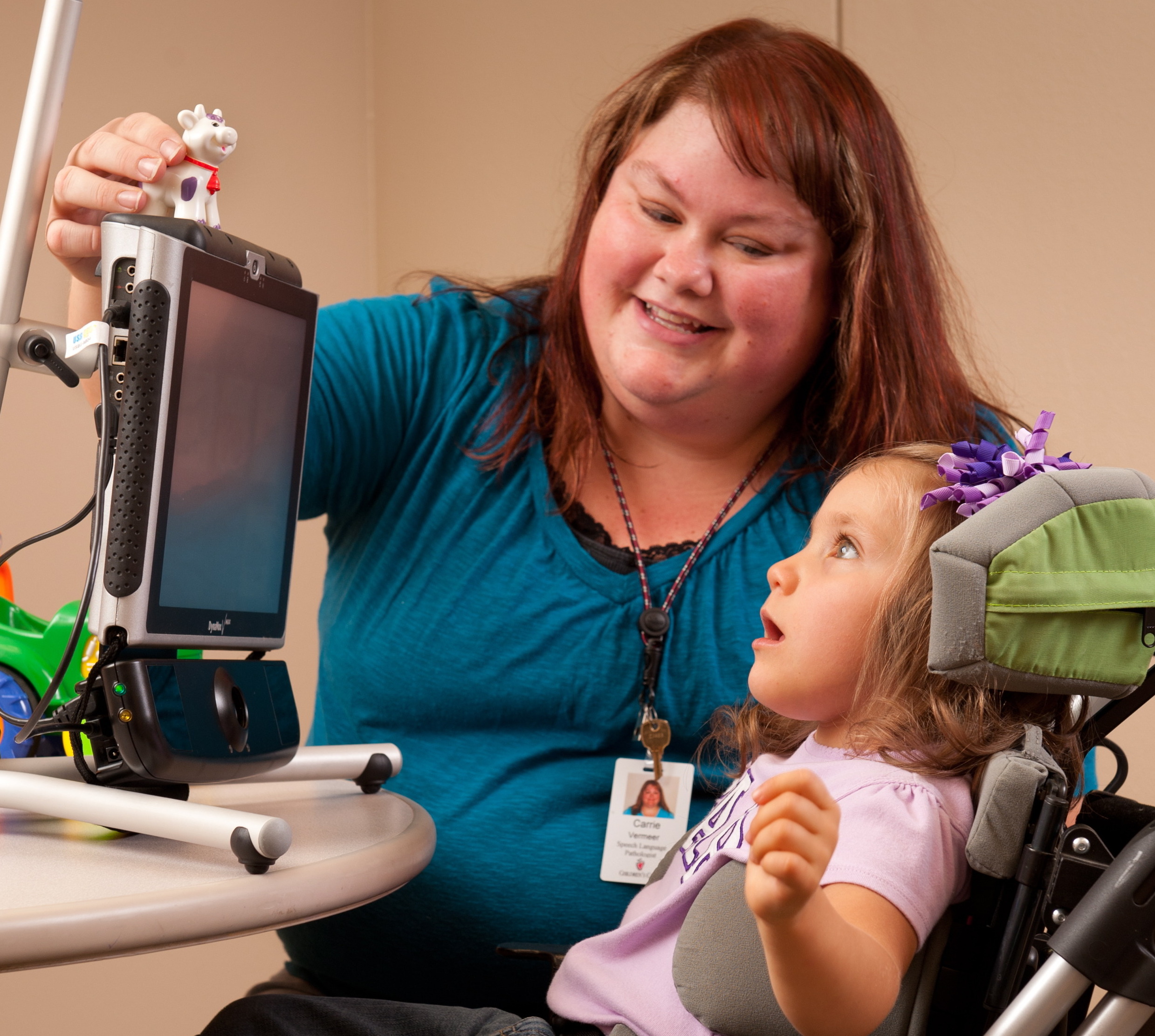 Speech Therapy (ST) will play a big role in helping to improve swallowing and communication. Many children with dyskinetic cerebral palsy and some with spastic cerebral palsy have involvement of the face and oropharynx, causing dysphagia, drooling, and dysarthria. ST may also recommend and teach the child how to use augmentative communication devices if they have some motor control and adequate cognitive skills. Some Speech Language Pathologists (SLP) who are trained in feeding can help with any feeding difficulties that the child may have.
Remember that incorporating play into all of a child's therapies is important. Just like with all of our children that we treat, therapy should be fun, not work! Therapists, parents and caregivers should seek fun and creative ways to motivate children, especially those who have a decreased ability to explore their own environment.
Rehabilitation and Cerebral Pals
y (Christine Thorogood, MD, 2013):
http://emedicine.medscape.com/article/310740-overview
Types of Cerebral Palsy:
http://www.cerebralpalsy.org/about-cerebral-palsy/types-and-forms
DISCLAIMER: "The San Diego Pediatric PT" claims no credit for any images posted on this site unless otherwise noted. Images on this blog are copyright to its respectful owners. If there is an image appearing on this blog that belongs to you and do not wish for it appear on this site, please contact me via e-mail at veronicaglendpt@gmail.com with a link to said image and it will be promptly removed.